I absolutely cannot stand food waste. I've had it instilled in me since childhood and as such I'm pretty careful about using up what I've bought, even if I have to make something especially to use it up. It's sickening how much gets thrown away and most of it being perfectly fine to eat too. In fact I have very strong opinions on the matter which usually end up with me in a massive rant but now is not the time to air such views. Now is the time to celebrate all your wonderful creations that have saved languishing fresh produce and ends of packets or tins from going in the bin.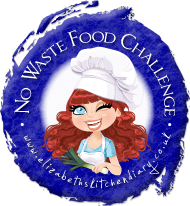 When Elizabeth from Elizabeth's Kitchen Diary put a call out for bloggers to host the No Waste Food Challenge throughout 2014 I was one of the first to put my name down. It's something I'm passionate about and I swear that some of my best recipes have come from being forced to come up with an idea to use up an ingredient that has been hanging around for too long. I want to help Elizabeth encourage as many people to do the same so please join in and link up what you have made and spread the word about the challenge so others can do the same. I really cannot wait to see what you come up with.
If you need some inspiration why not check out the July round up here at Anne's Kitchen? And big thanks to Elizabeth for letting me host!
Challenge Conditions:


1. Please link up your url using the linky at the bottom of this challenge post.
2. Feel free to republish old posts just make sure you add a link to the current challenge and add the challenge badge (the blue badge at the top of this post).
3. Make sure you link up before the end of August!
4. Posts will be added to the No Waste Food Challenge Pinterest Board to help spread the food waste prevention love!
5. Please make sure your post includes a link back to this blog post and the relevant month's host.
6. Tweet @TangoRaindrop and me @MustBakeCakes with the tag #NoWasteFoodChallenge and we will re-tweet all that we see.