I hadn't intended to blog about these so quickly but as it turns out I'm so incredibly pleased with them that I couldn't wait. I don't think I could possibly be happier with them, especially after their unstable origins last week.
This is a recipe born out of a disaster. Not a disater that anybody who tried some recognised but one which every baker dreads. My pastry case collapsed in the oven and the filling spilled out everywhere. My Bakewell tart looked rather sorry for itself wallowing in a half baked frangipane puddle. Not that anyone believed me when I took the bit that I salvaged into uni. Seriously, I presented it to the guys at 9:15 am and seconds later they were in the box and silence reigned. They were too busy eating.
You see, two of my friends had a birthday last week and one of them has been trying to get me to make a Bakewell tart for the last couple of years. I'd been really feeling like making one lately so it gave me the perfect opportunity to satisfy a number of wishes, including the desire to use up a jar of blackberry jam which I made last summer. I baked the case using an enriched pastry on Wednesday night intending to finish and photograph it on Thursday and take it in on Friday. However, fate didn't like that idea.
First, at the 20 minutes check mark I opened the oven door to see the aforementioned puddle. I nearly cried but held myself together enough to eat the spill clear up the baking tray and stem the frangipane flow with a foil collar while the rest baked. Then when the baking time was up, the remaining filling refused to bake so I had to leave it in longer. Which meant the pastry started to overbake though I'm thankful it didn't out and out burn. And the filling started to shrink away from the sides. Brilliant. I was in a quandry whether to take Bakewell-gate in or not but after asking the recipients on Facebook the message was clear. I was in trouble if I didn't.
There was no way in hell I was going to leave my taste testers with the memory of me stating that it had all gone wrong, even if they hadn't noticed, so this weekend was round two. Thankfully these mini versions were a lot more compliant and went without a hitch. Plus, being mini, they are rather adorable. And let's not forget addictive. It's like they are saying that it's fine to reach out for a second or even third helping. I suspect that might happen tomorrow and I will be powerless to stop them. I'm too pleased with the outcome.
The delicate pastry crumbles at the first bite leaving the buttery richness to melt over the tongue. The deep and fruity jam oozes out leaving you with just enough tartness to cut through the heavenly grandeur that is almond frangipane. A well rounded hue of tastes and textures in individual bites. Crumbly, juicy, sticky and nutty all at the same time.
Today is a satisfied day. Tomorrow I will show off these little treats with the smallest of smug little smile. I'm pleased with every recipe I've posted on here but rarely do I say it so simply - this time I did good.
Mini Blackberry Bakewell Tarts
Individual portions of a very popular Engllish classic with enriched crumbly shortcrust pastry, homemade blackberry jam and essential fragipane filling.
Ingredients
175g

plain flour, sifted

25g

icing sugar, sifted

90g

butter, chilled and cubed

2-3 tbsp

cold water

0.5 tsp

almond extract

100g

ground almonds

100g

caster sugar

100g

butter, softened

2

medium eggs

Blackberry jam

Flaked almonds, to sprinkle

Icing sugar, to finish
Instructions
1. Combine the flour and icing sugar then rub in the butter until it looks like breadcrumbs. Mix in the almond extract and enough cold water until clumps start to form then bring the dough together into a ball, kneading only very briefly.
2. Roll out the pastry between 2 sheets of baking paper to 2-3mm then cut out discs to fit the holes of a fairy cake tray using a biscuit cutter sized about 7cm ish (I got 18) and use to line the trays. Chill in the fridge while the oven heats up.
3. Set the oven to 190 C/170 C fan. Place the almonds, caster sugar, softened butter and eggs in a bowl and beat together with an electric mixer until combined and no lumps remain.
4. Place a small blob of jam (half tsp ish) in each tart case and cover with a heaped tsp of frangipane. Smooth the filling out so it reaches the edges of the case. Be careful not to overfill as it will expand and any remaining frangipane can be baked in paper cases. Sprinkle a few flaked almonds onto eaach tart.
5. Bake in the preheated oven for about 20 mins until golden brown then cool on a wire rack, using a knife to gently lift each from the tray.
6. When completely cool, mix 1 dsp water with enough icing sugar to make a glace icing of your desired consistency then drizzle over the tarts to finish.
The size of these Bakewell tarts make them nice and compact for a picnic and so I'm submitting them to the Tea Time Treats challenge which has a picnic theme for August and is currently hosted by Karen from Lavender and Lovage who alternates with Janie from The Hedge Combers.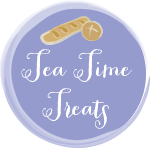 Elizabeth from Elizabeth's Kitchen Diary hosts the Shop Local challenge and even though I didn't actually buy the berries that went into the jam I hope this entry will still be accepted because I made the jam myself from locally picked wild bramble berries. Wild fruits and produce need to be celebrated and used just as much which I'm reasonably confident Elizabeth will agree with.