I know, two savoury recipes in a row. What is happening to me? Are you waiting for me to get back to recipe that produce sugar laden goods like these brownies? Stick with me, I'll be back there soon. I wanted to talk about these today because they are a breakthrough for me.
I'll start with a confession. All my savoury muffins up until now have been failures. Dry, overbaked, lacking in flavour or even more depressing, all three at once. Not good for a baker. The best I had achieved was nice fresh and pants a few hours later when cold. Once, Mum couldn't even finish one whenshe was dipping it in soup. Then again, Mum is really fussy and prefers to stick to the conventional so would rather I only ever make sweet muffins. That's ok though. I can cope with that because I love her. These muffins though were even a sort of breakthrough for her albeit a mini one. She tried a bite and gave me a quick 'these are nice'. Thanks Mum.
Baking for me right now is a distraction. We all need a distraction at the moment in our house because something very, very sad has happened but I'm no ready to talk about it. I might never be, not on here even though I've written the explanatory post several times already but let's just say if everybody stopped buying Kleenex tissues, we would keep the brand going on our own. Everything I;m doing right now, every positive comment I make and exclamationmark I type is a distraction. Sometimes I have to force myself to get on but baking is at least a distraction that I want to do. Because I still want to eat and I still want it to taste good.
The beauty about muffins is that they are so quick to make. If you aren't a slow coach like me you can literally be trying not to burn your mouth on something deliciously satisfying in less than thirty minutes after pulling the mixing bowl out of the cupboard. I popped these in the oven at 7:55 am and by 8:20 I had tweeted a picture of my breakfast complete with a cup of Lady Grey to show off my creations. So yes, that does mean I was reaching for a bottle of ale before most of the shops had even opened for the day. I did feel a bit odd for that.
So less waffle and more muffins. (Incidently, I still want a waffle maker.) If you are going to have a savoury muffin over a decadent and rich sweet one, your main flavour needs to be strong so I knew I wanted to use the cheddar I had bought from the Huddersfield Food & Drink Festival. Then I remembered the leftover ale in the fridge from the pulled pork Mum made at the weekend so I thought I'd put some of that in there too. But what herbs to finish it off? To be a bit different I decided on the chives Mum had growing in the garden and crossed my fingers that I had got it right and I wasn't in fact making a grass muffin.
The flavours came together wonderfully into something which I only just managed not to devour two of straight from the oven and still thought were just as enticing cold with a salad for lunch. The punchy cheddar is complemented by a background of something darker and fuller of body in the ale and given a rightful sign off by the fresh herbs that did turn out to be herbs and not grass. I'll always prefer sweet over savoury but now I've found my savoury muffin feet I'm itching to try more. Cheese and Marmite maybe?!
Cheddar, Ale and Chive Savoury Muffins
Strong cheddar combines with dark all and fresh herbs to make a truly well flavoured savoury muffins. Eat for breakfast, lunch dinner or snack as an ideal alternative to a sandwich.
Ingredients
190g

plain flour

2 tsp

baking powder

60g

mature cheddar, grated

Small bunch

chives, chopped

65 ml

milk

65ml

ale e.g. Newcastle Brown

1

large egg

60 ml

sunflower or olive oil

30g

walnut pieces, to finish
Instructions
1. Set the oven to 220 C/200 C fan and place 6 muffin cases in a muffin tray.
2. In a bowl, sift together the flour and baking powder then stir in the cheese and chives. In a jug, mix together the milk, ale,egg and oil. Pour the wet into the dry ingredients and quickly but gently mix until just combined. The mixture will be lumpy.
3. Divide between the cases (you may only need five), sprinkle on waluts and bake in the preheated oven for 5 minutes. Turn the oven down to 180 C/160 C fan and bake for a further 13-15 mins until a cake tester inserted into the centre of the muffins comes out clean. Cool on a wire rack until cool enough to handle then remove from the tin to cool completely or dig in.
There are a few challenges this recipe is perfect for. First, is Ness' Love Cake over at JibberJabberUK where the theme this month is savoury.
Next is Karen's Cooking with Herbs at Lavender and Lovage where the optional theme is summer herbs and flowers so my use of chives fit here.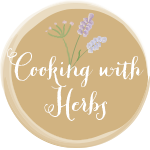 Janine from Cake of the Week has set her Baking with Spirit theme as go crazy with whatever you like so I'm pleased I used ale here so I can enter.