Banana, peanut butter and chocolate ice cream. Just a quick (for me) post today to match the quick recipe. A 3 ingredient recipe but I'll leave you to guess what the ingredients might be!
Most us have seen by now those ice creams made from bananas. They might not be top of everyone's list of favourite puddings but I'm a big fan. So quick and so gratifying in my unhumble opinion. I actualy feel like a bit of a fraud posting this because they are so incredibly easy but after experimenting with flavour combinations last summer, I wanted to let you all know about one of my favourites. And because it is largely made up of fruit and nuts, I fail to see why you can't eat it for breakfast. Fruit and nuts are healthy after all and considering that Nutella contains chocolate and is advertised as a breakfast treat then why shouldn't a little milk chocolate sneak into breakfast ice cream?
Not that I have ever eaten ice cream for breakfast myself but after making this I may seriously give it a go. And to think, I may not have even bothered if I hadn't trapped the end of one of my bananas in the office fridge door making it go really black. Adding peanut butter and crumbled chocolate was the problem to my banana dilemma. Like I say to a lot of people, chocolat eis always the answer.
It's graduation week at Huddersfield this week and someone has arranged for an adorable little ice cream van to be parked on campus. I thought it was part of the weird temporary art installations that have sprung up in the last few weeks but when I saw people in gowns and suits wandering about I realised I was a) wrong, and b) very jealous. The amount of noot particularly healthy food I have consumed this week may prevent me from visiting this novelty but if so then I'm so glad I have a fall back in this ice cream.
If the sugar cravings become too much and I don't want to break into the emergency Ben & Jerry's I know that in as little as an hour I could be enjoying the delight that is homemade sweet and creamy ice cream shot through with velvety peanut butter and ingots of chocolate which disintegrate perfectly to little pools of pleasure. Load up a dish and top with whatever takes your fancy. The best bit? It's homemade so you get to control the ratio of chocolate to ice cream.... if you catch my drift!
Banana, Peanut Butter and Chocolate Ice Cream
A 3 ingredient ice cream reciep that nobdoy could argue isn't suitable for breakfast. YOU get to decide the size of the add in scoops and it's no churn too!
Ingredients
2

ripe bananas, peeled and sliced

A scoop of

peanut butter, heated until runny

1

Cadbury Twirl or Flake, crumbled
Instructions
1. Place the sliced bananas in a bowl and use a stick blender to make them completley smooth. An electric mixer, regular blender or a fork all work too.
2. Stir through the runny peanut butter and chocolate. Transfer to a freezer safe container and freeze until solid or your desired consistency.
3. Remember, it is largely fruit so you can enjoy at any time of day!
Elizabeth from Elizabeth's Kitchen Diary is hosting We Should Cocoa this month on behalf of Choclette from Chocolate Log Blog and has chosen the theme of 'chocolate ice creams and toppings'. It might not be a chocolate ice cream itself but as it still contains chocolate, I hope my entry will count!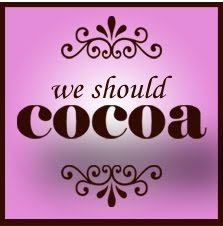 So many people have old bananas to use up at some point and most of us hate them going to waste so I'm offering this ice cream to the No Waste Food Challenge as an alternative to throwing them away. Anne from Anne's Kitchen is hosting on behalf of Elizabeth from Elizabeth's Kitchen Diary this month.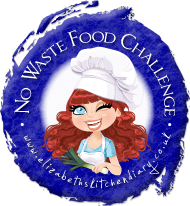 As a sneaky little promotion of two challenges I'm hosting, my Biscuit Barrel challenge has the theme of IN SEASON FRUITS this month and Janine from Cake of the Week's Baking with Spirit challenge has the theme of ALCOHOL FOR PARTIES. I hope you can join in!