If a muffin can have a split personality this would be the one.
Probably not the most flattering opening line to a post but I needed to express the contrast between the dark and brooding yet soft interior that hides chunks of white and milk creamy sweetness within. I knew it was a risk trying this recipe but it was worth it.
Muffins are something I've had problems with in the past. I've either had a mixture which was too thin or have overmixed the wet and dry ingredients so the texture has been all wrong. These however I was pretty happy with. The recipe (from Roger Pizey's World's Best Cakes - brilliant book!) uses 200g of 70% chocolate for 12 muffins (though I only did a half batch) which sounded a lot to me but I promise you, after the first bite you will not be able to resist taking another and another until pretty soon you don't have enough left to get a decent picture of the insides of the muffin. Just me was that?
I know these won't be everyone's ideal muffin but I really think you should try them. They have a wonderful texture and there is no mistaking the deep, chocolatey flavour. I wondered if the mixture could take a few lot more chocolate chunks but I do like to push chocolate things to the limits. And why not? It is one of the best foods on this planet after all. That's a recipe idea all in itself - Overloaded Chocolate Chip Muffins. Hmmmmmm....
Dark Chocolate Muffins
A darkly chocolatey muffin tempered with the sweetness of large chunks of milk and white chocolate.
Ingredients
250g

plain flour

2 tsp

baking powder

75g

caster sugar

175g

chocolate, roughly chopped

75g

butter, melted

1

large egg

175g

semi-skimmed milk

100g

70% chocolate, melted
Instructions
1. Set the oven to 220 C/200 C fan and line a muffin tray with 6 to 9 muffin cases depending on their size.
2. Mix the flour, baking powder and caster sugar in one bowl, then the butter, egg, milk and melted chocolate in another before mixing the two together about half way. Stir in the chopped chocolate until just a few bits of flour remain.
3. Divide between the cases and bake in the preheated oven for 5 mins before turing the temperature down to 180 C/160 C fan and baking for another 13 mins ish until a skewer inserted into the centre of a muffin comes out clean.
4. Remove from the oven and cool until safe to remove from the tin then cool until you can't resist eating one any more.
Adapted from World's Best Cakes by Roger Pizey
I can't help but share these with a few baking challenge this month. I set the theme to my own Biscuit Barrel challenge as 'chocolate' this month and there is plenty in this recipe to qualify. The same can be said of Tea Time Treats, where Karen at Lavender and Lovage is hosting this month, alternating with Jane at The Hedgecombers.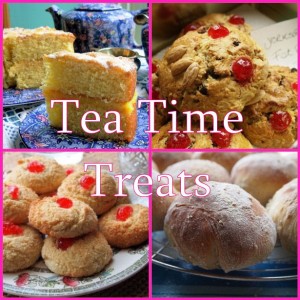 Choclette at The Chocolate Log Blog, hosting We Should Cocoa and Dom from Belleau Kitchen hosting Random Recipes have joined forces this month so both challenges have the theme of random chocolate recipes. How I chose my recipe for this was to pick the book from my stack that caught by eye, turn to the index and scan the chocolate section until a recipe jumped out at me. If I'm really honest the first one that got my attention was a very large concoction that I couldn't legitamise making so I was thankful the second was viable!
Finally I think I can just about get away with entering these into Calendar Cakes, currently hosted by Rachel at Dollybakes but jointly with Laura of Laura Loves Cakes. The theme is 'Oh L'amour' and anyone who has a love of chocolate will really love these muffins.