There is a story that goes with these cookies but if I tell the whole thing then this post will not finish until Christmas. In short, I went to the BBC Good Food show on Saturday. FINALLY. I've been wanting to go for the last couple of years but couldn't persuade my mum to go with me. This year I still didn't have anyone to go with but I didn't want it to be yet another year when I regretted not going so I took myself off and had a brilliant, if very exhausting time. I also came back very stuffed. I tried nowhere near everything that was being offered as samples but even what I did try was a lot. I didn't buy anywhere near as much as I expected to but then I did fall in love with a knife. A very professional very expensive knife. Maybe I'll succumb and buy it next time. Much like I succumbed to making these cookies.
After being out all day on Saturday (and I mean all day - I was sprinting for the train at 6:45am and didn't get back until 9pm thanks to rugby, footbal and Christmas markets meaning train problems and replacement bus services from Manchester) I wasn't planning on baking anything on Sunday morning because I thought I really ought to get on with some uni work. But then I really, really wanted to bake some biscuits and seeing as the last lot I made were a complete failure I had an even bigger hankering to bake. It needed to be something quick though. And easy. If I was going to take yet more time out from working then I should reduced the faffing about I needed to do. I had trouble deciding which recipe to make as I didn't want to do the gingers or hobnobs my mum suggested but I eventually settled on these based from Sally's Baking Addiction. Except, of course, I didn't follow the recipe. Hahahaha no.
A while ago I bought some Aero bubbles thinking they would go well in a cupcake. By some miracle they were still there on Sunday so I thought I'd give them their chance in these cookies instead. I've never made a mint flavoured cookie before so it would be interesting. Plus, it gave me an excuse to open the bag of bubbles and eat one or ten or more. I didn't itend to eat that many but they were so nice so in the end only about 85g of the 113g bag went into the cookies. But it was all good because despite there being dangerously less chocolate than stated in the recipe, the structure of the bubbles meant there was plenty in the cookies. I was so pleased with how they turned out. Slightly crisp on the outside, deliciously soft and chewy on the inside with pockets of refreshing minty chocolate dispersed throughout. These are a winner and the next time I make them (there will definitely be a next time) the only change I'd make is to add some mint extract to boost the flavour but I didn't have any this time. I'd like to try them with broken up Twilights too.
So much for a learning to keep posts short because of uni work. I need to tell you of the baking challenegs I'm sharing these with this month. First, is my own Biscuit Barrel challenge. This month the theme is quick an easy - these cookies were both. I was completely relaxed while making them and they are so good they are being considered for my long postponed Chocolate Chip Cookie journey.
This month, the letter for AlphaBakes is X and our host this month, Ros from The More Than Occasional Baker, has said that X-Mas is perfectly acceptable as an entry. Joint host Caroline from Caroline Makes also agrees and even though I couldn't bare to put X-Mas in the title because I'm a bit of a stickler for things like that, hopefully my cheating entry will be accepted. Plus, these cookies are a perfect way to use up any leftover X-Mas chocolate when the time comes, if there is such a thing!
Next is Treat Petite, this month hosted by Stuart from Cakeyboi but hosted on alternative months by Kat from Baking Explorer. This month the theme is 'Happy Holidays'. For as long as I can remember, my brothers and I have always associated mint Aero with Christmas so these cookies remind me of Christmas and those conversations when we demanded the stock of Christmas sweets feature mini Aero bars.
For the same reason, I'm also sharing these cookies with Calendar Cakes - this month hosted by Rachel from Dollybakes but also hosted on alternative months by Laura from Laura Loves Cakes. I know it is a bit of a tenuous link to Christmas so it is with a little trepidation that I enter them into the 'Jingle Bell Rock' theme but the Aero bubbles are green which is a festive colour!
Last but not least is Tea Time Treats from Karen of Lavender and Lovage and this month hosted by co-founder Kate of What Kate Baked. Sadly, this month is Kate's last for hosting the challenge but to go out in style she has chosen the theme of 'Festive Foodie Gifts'. For anyone who doesn't bake themselves, I think these cookies would be the perfect gift around Christmas, packaged in a pretty box or tied up with a ribbon in a cellophane bag. The mint makes these a touch lighter than all the other rich foods around at this time so might make a welcome change.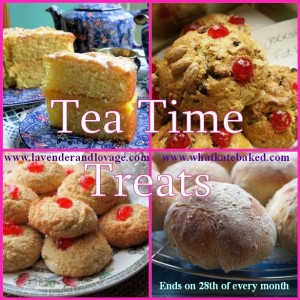 Enjoy!
Christmas Aero Bubbles Cookies
A perfect, chewy cookie with crisp edges and a refreshing mint flavour from the Aero bubbles spread throughout.
Ingredients
114g

softened butter

150g

dark soft brown sugar

100g

granulated sugar

1

large egg

1

yolk

1

peppermint extract

0.75 tsp

bicarbonate of soda

1 tsp

baking powder

285g

plain flour

85g-113g (depending on how many you eat)

Aero mint bubbles
Instructions
1. Set the oven to 180 C.160 C fan. Line three baking sheets with baking paper or a silicon mat, or line one tray nad bake in batches like I did.
2. Use an electric whisk to beat the butter until creamy then beat in the sugars. Mix for a minute until very well blended then beat in the egg, yolk and mint extract for another 60-90 seconds.
3. Sift together the dry ingredients, except the bubbles, and mix into the wet ingredients in two batches. Mix for 30-60 seconds with each addition. Chop the bubbles up and fold into the dough by hand.
4. Form into balls (mine weighed 35g each) and place 9 on each baking sheet, flattening each slightly. Bake in the preheated oven for 12-13 mins, turning the trays at the half way point. They will still be very soft but once done, leave on the tray for a few mins then remove to a wire rack to cool fully or eat at will.
Original recipe credit to Sally's Baking Addiction