Thank God for shortbread is all I can say. A success to soften the blow of being stuck once again on a stupid Physical Chemistry assignment. I've found this one really difficult to get on with anyway especially with how distracted I've been lately but I really don't know how I'm going to get past this question. If anyone knows how I can determine how th bond length of HCl varies as the molecule vibrates, I'd be ever so grateful if you could let me know. I don't need to do the actual calculation, just how to figure it out. I'll be eternally grateful and I'll repay you would these yummy biscuits.
I've been planning these since reading Choclette's post for Chocolate Apricot and Walnut Tortes. I just knew the combination of apricots and walnuts would be a good one and I've had a yearning to make shortbread for a while now. Some people would argue that shortbread should be left unadulterated but I disagree. Yes, a classic shortbread done well is a beauty to behold. I've argued before that there is possibly nothing better than a shortbread biscuit but as an experimental baker I consider shortbread to be the perfect base to play with. I cannot lie, I have no regrets with these. Soft, meltingly buttery comfort with the crunch of the walnut pieces and the slight tang and chew of the apricots all finished off by the sweetness of the Terrys chocolate. I'm having to try really hard not to pelt down the stairs to get another right now.
These weren't originally going to have chocolate on. I had considered it but then gave myself a stern talking to that I should stop trying to coat everything with the good stuff. Then I spoke to my mum and that all changed. I'd say it was her fault but I was not forced. It was mearly a suggestion that made me revert to previous ideas. Just let's not go into how much of the Terrys orange I ate while finishing off these biscuits.
I did consider using a 70% cocoa solids chocolate for the drizzle but went for the Terrys because I thought the orange flavour would complement the apricots. I totally was right but go with whatever you fancy. It's all good. White chocolate maybe?
Shortbread is so easy to do that yo can easily make up two lots in one go then split the batch and make different flavours. This is what I did here, making the apricot and walnut ones and the classic plain ones. Mum makes loads of this sort at Christmas (I learnt it from her, hence why the recipe is in ounces again) and we cannot go visiting family without taking them some. Mum even has a special tin she makes it in which is old and battered and scratched where she has run the knife round the edge to release the disc before cutting up. It goes against all the books that say a warped tin or baking sheet will give shoddy results but they haven't tasted my mum's law defying shortbread. They really should.
I'm sharing this recipe with a few baking challenges which I enjoy entering so much. First of all is We Should Cocoa, the brainchild of Choclette from Chocolate Log Blog and this month hosted by Rebecca from BakeNQuilt. Rebecca has chosen the theme of cookies for this month and whether you call them a biscuit or a cookie, I think these shortbread fingers fit.
Next is my own Biscuit Barrel challenge. Novembers theme is 'festive and party' and seeing as shortbread is a staple of Christmas in our house they definitely fit. I trully cannot wait for my mum to start making the batches she does every year.
Happy 2nd birthday to Tea Time Treats now where the theme this month if dried fruit. Karen from Lavender and Lovage is hosting this month and next month will sadly be co-host Kate's (from What Kate Baked) last month. The apricots in these were surprisingly moist for a dried fruit but I promise they were dried and not fresh ones!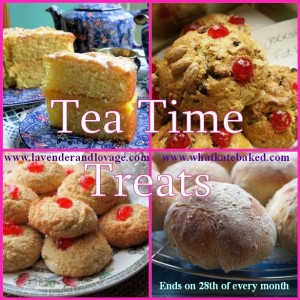 Last but not least is Credit Crunch Munch by Helen at Fuss Free Flavours and Camilla at Fab Food 4 All and this month hosted by Sarah at Dinner with Crayons. I mentioned this recipe was inspired by another I had seen but it was in part inspired by the remaining walnuts I had in the cupboard which turned out to be just enough for what I wanted to do. They could easily be replaced with any nuts if you are wanting to use up what is in your cupboards.
That's it for now - on with the recipe and enjoy.
Apricot nd Walnut Shortbread Fingers
Rich, buttery shortbread dotted with chopped walnuts and dried apricot pieces finished with a special drizzle of Terrys chocolate orange. Double up the first 4 ingredients if making a plain batch too, then split after the flour and semolina are mixed in.
Ingredients
4oz

softened butter

2oz

caster sugar

5oz

plain flour

1oz

semoline

1.5oz

walnuts, roughly chopped

1.5oz

apricot, roughly chopped
Instructions
1. Grease a 7 or 8 inch square tin and set aside. Set the oven to 170 C/150 C fan.
2. Cream the butter and sugar until combined NOT until light and fluffy like for a cake. Sift in the flour and semolina and mix to combine. Finish with your hands if necessary.
3. If making a plain batch, split the base in half at this point and put half in a suitbale greased tin. Level and smooth, mark into pieces and poke with a fork. If not splitting, mix in the apricots and walnuts, bring together, press into the tin, smoothing and levelling as you go. Mark into fingers and make fork holes.
4. Bake in the preheated oven for 25-30mins or until a very pale golden brown is achieved and the top is firm to the touch. Check after 15 mins and if the surface has bubbled, touch back down gently and lower the temperature. Cool on a wire rack before turning out and cutting over the lines made earlier.
5. Put the kettle on and enjoy.