I don't know what to say about these brownies.
That's ok, I'll give you a moment to pick yourselves up from the floor. No worries.
Here's a picture which might help to explain why I have no words for them. And seeing as I can't help quoting it, a picture is worth a thousand words after all.
No? Still not convinced? Alright, I'll try.
I have read an awful lot of brownie recipes since I became addicted to Pinterest and yet I'm still loyal to my own creation that my mum raves about. Normally if Mum likes something I've made she tells me so once. Twice if I'm lucky but she certainly doesn't go on and on. Those brownies though are a different matter so I've been reluctant to try a different recipe meaning it's the one I automatically used in a gluten free version to christen the oven in my uni house. Sadly I didn't feel they were up to par so when I saw a flourless brownie recipe in the book that accompanies the current series of GBBO I thought it would be the best choice to make, amongst other things, for my housemate Lauren's birthday which was last week. I did a lot of baking last week and banned Lauren from the kitchen while I was up to my games but I let her see these because she was getting them before her actual birthday to entertain friends with if they came round. Now I know I'm blowing own trumpet here but seeing as I'm pleased enough to not know how to describe these I'm going to quote Lauren - 'oh my god, they're melting in my mouth.'
Naturally, I didn't stick to the recipe because of my inherent desire to meddle and thankfully everything worked with this one and I ended up with something so darkly chocolately and squidgy yet being light enough to make me think of chocolate mousse with each bite. The recipe changed my perception of gluten free brownies - I don't think I'll ever use gluten free flour mix again for something similar. It must be the technique of whisking eggs and sugar to the ribbon stage that does it texture wise though I would like to think my personal stamps had a hand in it too. I changed the butter for oil and apple puree and sprinkled the nuts on top. Normally I one million percent disagree with putting nuts in brownies but these were for Lauren who loves walnuts so I had to make the sacrifice on this occasion. Then when I had congratulated myself at finally getting the tray in the oven I realised the nuts were still waiting patiently on the side to be added to the mixture. Thankfully whipping out the tray again and spreading them on top didn't ruin the bake and it has shown me that nuts on brownies are a wonderful addition. I genuinely can't wait to make these again and I promise even with my desire to aapt every recipe on the plantet that there will be an again because we both thought they were that good. As did the people Lauren shared them with. Reluctantly. And in small pieces.
I'm so pleased with these that I'm going to share them with several baking challenges and quickly so I can get this publlished because looking at that picture is making me desperately want chocolate!
First up is Tea Time Treat, a joint venture between Karen (our host for this month) at Lavender and Loveage and Kate at What Kate Baked. The them is flapjacks, oats and traybakes and brownies are a classic traybake.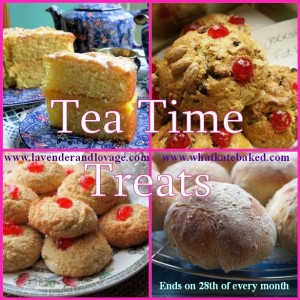 Treat Petite is a new challenge this month created by Stuart at Cakeyboi and Kat at Baking Explorer (who is hosting this month). There is no theme this month so anything goes as long as it isn't a big cake. Traybakes count - I checked!
The theme for this months Feel Good Food hosted by Victoria at A Kick at the Pantry Door is apples and although apples may only me a small part of this recipe (homemade apple sauce, cooked peeled and chopped apples and blend to a puree, it couldn't be easier), these brownies certainly made me feel good. There's less sugar and fat in these compared to regular brownie recipes so I'm sure my entry must be ok!
Last but absolutely not least I'm sharing these with Four Seasons Food where the theme is currently Sliding Into Autumn. I think my inclusion of apple sauce just scrpaes me a pass with this one plus I made them specifically for a September event - a month associated with the end of summer and start of autumn. Anneli of Delicieux and Louisa of Eat Your Veg run this one with Anneli taking the reigns for this month.
If you like baking challenges then I'd be ever so grateful if you could check out my own, very new challenge too - the Biscuit Barrel Challenge.
Phew! Here's the recipe. Give it a go - you won't regret it.
Chocolate Mousse Brownies
An unltra chocolatey, squidy brownies that melts like a mousse in every bite.
Ingredients
225g

chopped dark chocolate (mix of 70%/less dark, to taste)

4 tbsp

sunflower oil

70g

unsweetened apple sauce

35g

cocoa powder

3

eggs, medium

150g

soft brown sugar

100g

walnut pieces
Instructions
1. Melt the chocolate in a bowl also containing the oil and apple sauce, held over steaming water without the base toucing the water. Stir well to mix, then sift and mix in the cocoa powder. Set aside to cool while you set the oven to 180 C/160 C fan and line a 8" square tin with baking paper.
2. Whisk the eggs until frothy then sift in the sugar and whisk until the mixture is pale, increased in volume and leaves a ribbon trail when you lift the whisk out.
3. Gently pour and fold in the chocolate mixture with a large metal spoon or spatula until no streaks remain. Pour the mixture into the tin and sprinkle the walnut pieces on top.
4. Bake in the preheated oven for around 30 mins. When the brownies are ready a skewer inserted into the midle will come out with some gooey bits on but it won't be liquid.
5. Cool in the tin, on a wire wrack until fully cold then turn out and cut into bars. Enjoy!